Hi,
My name is John Shea and this is my story.
Want the short version of my story? Click here. This version is 25,000 words!
Want to watch the video version of this article? Check out this free course here (Requires Free Teachable Account)
I've also got a Kindle version of this book which you can pickup here! 
This will be my first in-depth blog post that I've written in quite some time. It's been an idea in the back of mind for a while and today I've decided to actually share it.
Every day there are new and exciting products being released into the world catering to the "Make Money Online" crowd.
I wanted to use this post as a means to really truly share my journey over the past 6 years sharing a real glimpse into the success and failure of an online marketer.
You could be brand new to internet marketing or maybe you have been at it for a long time and you still have yet to really figure it out…
I want this post to be a lesson so you can learn from my mistakes and my non-essential thinking.
Let's jump back 6 years ago:
2010:
It was around this time I had started to get a lot more involved in fitness. I specifically remember leaving my gym membership behind and putting a lot of time and energy into home fitness workouts such as P90X and Insanity. I ended up eventually getting invited to attend a live fitness event with Tony Horton, the creator of P90X.  I had a blast that day working out with friends and nearly 300 people outside, the experience was unreal.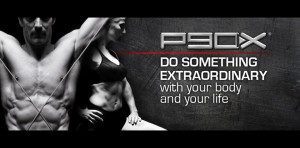 I remember going to a party that same night super excited as I overheard some girls talk about Chobani yogurt and I jumped into the conversation on nutrition which turned into a conversation on fitness about how amazing my day was being at this live workout most of the day with hundreds of people.
Before I knew it I was doing push-ups on my friends kitchen floor and telling these girls I could become their 'coach' which was a term the creators of P90X used for their Multi-level marketing platform to sell their products.
The idea was you could promote the P90X fitness products and earn commissions selling them. The live event made this opportunity really come to light for me at the time so I joined shortly after.
I found myself drinking shakes daily, working out all the time but for the next 2 years I completely failed at recruiting a single person into the opportunity. I'd talk with friends, family and even co-workers trying to convince them to hop on the fitness journey with me but I never managed to pull in much of anything beyond getting someone to order a DVD set or a single 30 day shake supply here and there.
During this time I had realized I needed to market myself outside of the typical people I see on a daily basis so I came up with this unique idea to bring fitness and video games together. I created a site called Team Fit Gamers and tried getting all of my friends on board to help me build a 'movement' so to speak.
This was my first experience with WordPress and building my very first real website. I even had a friend of mine meet up with a group of my friends for dinner to talk about how we could use 'SEO' to get more traffic to the site. I pushed this idea for a solid year and never really figured out how to get it out there properly. You can even watch one of my original YouTube videos about it here.
I started to also get more into an entrepreneurship mindset, mostly by reading books like The Slight Edge or one of my favorites – The Magic Of Thinking Big.
I probably spent well over $2000 on shakes and workout programs through out 2010 and 2012.
2012:
In July of 2012 I had been very closely following someone by the name of Todd Warren. He was a very successful Beachbody coach and I had always looked up to him and everything that he was doing during my time as a coach.
I noticed one night he started talking about how he was making money from 'blogging' online and I became very interested.
I soon found myself on a phone call with Todd and he introduced me to a new MLM style opportunity similar to Beachbody called the Empower Network.
The idea was simple, you 'blog' on a WordPress based Empower Network sub-site and you recruit others to sign up and blog. I loved the idea because blogging seemed like an awesome way to start earning some money at the time. You can even see my blog I had here.
The platform was $25 to start and they had upsells ranging from $100 all the way up to $3500.
Not long after signing up for Empower Network I got compelled by all of the 'upsell' training that was offered in the system. I ended up joining what they call the '1k Formula' for $1000 after a very convincing phone call with Todd. I specifically remember how much he pushed me into making that purchase and how much more serious I'd take my journey if I made that investment so of course I did it.
This is when everything changed and I truly began to learn what "internet marketing" really was.
I began to let my mind take me just about everywhere possible in the "Make Money Online" niche.
It really started when I began becoming friends with people on Facebook that were also in Empower Network, watching them making money from all kinds of different opportunities.
One of my first ventures was to create a new blog for myself, like I had done with Team Fit Gamers but only this time more about internet marketing.
I registered John-Shea.net which was probably the worst domain name ever. I went through the Empower Network 1k Formula training and was mind boggled by everything being thrown at me. I specifically remember a whole section on solo-ads which is the basis of utilizing other people's email lists for promotions on your own products.
I started looking for services to help me grow my blog and eventually found myself with an account on Aweber which I'd later use to grow my email list.
The 1k Formula Giveaway
I was confused and didn't know if this product or this path in general was really any good and at this same time I had been seeking out help with various topics, one of which was marketing on Twitter.
When looking for help with Twitter marketing I found an article over on a site called Traffic Generation Cafe. The owner Ana had tons of articles offering marketing advice and she overall seemed very ethical providing advice to her followers.
I had begun reading her blog on a regular basis and for some random reason decided to make her an offer 100% for free in exchange for a real 'review'. I asked Ana to login to my Empower Network account and check out the content in the 1k Formula package that I had recently paid $1000 for.
I remember she thought I was full of shit at first, considering I was giving her access to the product I paid a lot of money for.
It was not long after that she posted this in-depth negative review that absolutely blew up in the community with nearly 300 comments. The review got so much critical feedback that even the CEO of Empower Network visited her blog to comment.
This shed some light on my decision which was the entire point of sharing the training I had just spent my hard earned money on.
I continued blogging about random topics on both my own domain and my Empower Network blog thinking I could keep things moving along regardless.
In 2012 I had quite a bit of time to try different things and here were some of them:
I signed up on Tribepro – a blog syndication platform
I registered on Clickbank – a popular affiliate marketing platform
I purchased The Best Spinner – a tool that would take synonyms and swap them in content to make articles appear unique
I purchased Article Marketing Robot – a tool that would build backlinks on auto-pilot
I signed up on Onlywire – a blog syndication platform
I started a trial of SENuke – a backlink building tool that would build links on all kinds of websites automatically
I made a second Empower Network account to sign up under another sponsor who promised me lots of new opportunity (Total bullshit)
I started a trial of Noble Samurai – a keyword research tool
I purchased Copyscape Premium – a service that allows you to look for duplicate content on the internet
I purchased an indexing service for backlinks on onehourbacklinks.com
I signed up on Traffic Swarm – a site used to swap traffic between users
It was around October at this point and I had already dived pretty deep into what I thought was SEO and trying to do all kinds of stuff with spun articles and backlink tools. I'd spent a ton of time and was already getting made fun of by my close friends for doing even more "pyramid scheme" stuff like I did before with Beachbody.
I discovered a girl by the name of Jade who was promoting a Twitter robot with her website and making commissions as an affiliate. In fact she had made thousands from simply promoting one single tool I knew there had to be an opportunity for me doing the same thing so I purchased Tweetadder.
I turned John-Shea.net's home page into a page 100% dedicated to promoting the Twitter bot as an affiliate.
For the next month I used more traffic exchange networks like such as Ibotoolbox – a networking / blogging site mostly flooded with people promoting recruitment style opportunities all over the internet. I think I made a single sale which didn't get paid out to me anyways because of the payout requiring you to hit $100 in sales prior to getting paid.
As 2012 continued I:
Signed up on Jvzoo for the first time – a market place for internet marketing products
Signed up on Triberr – a blog syndication network
I purchased a product called Instant Gratifications from someone named Robert Mercado (More on him coming up)
I signed up on some site called CrankyAds.com which is now being used as a private blog network website (haha, more on this later)
I made an account on Commission Junction – another affiliate network similar to Clickbank
I signed up as a Hootsuite affiliate – a social media automation platform
I explored free content from Ryan Deiss of DigitalMarketer
In December I had spent the last several months learning and experimenting with quite a bit. I really had enjoyed the training I learned from Robert which ran me about $100. I saw how successful he was with Empower Network among many other opportunities so I decided to sign up with him for some 'coaching'.
It cost me $500 and it was one of the worst internet marketing experiences I had to this date. His session was literally a screenshare (no audio) of him chatting with me over Skype telling me to sign up for a whole bunch of different programs. The one that stood out to me was a program called Zip Nada Zilch otherwise known as "ZNZ". Robert would earn commissions for anyone who signed up for free trials of various products through his link.
So instead of actually teaching me anything he simply had me sign up and spend actual money on some bogus trial offers, I literally ordered children's books and a teeth whitening kit among some other random garbage.
I remember as I was doing all of this I kept telling myself "It will be fine, just do what he says.. I paid him a lot of money to learn what he's showing me".
Through out the next several weeks I received tons of numerous spam phone calls from telemarketers and I spent hours working with my credit card company to initiate charge backs on my card. I tried to reason with Robert and get some actual advice that would really help me and all he seemed to have to offer was a 'discount' on his next up coming product.
Of course by this point I had absolutely no interest in this and knew I was scammed so I did a charge back and he's been blocked ever since on my Facebook.
Not long after there were some others who felt he was ripping them off and a guy actually wrote an entire article dedicated to Robert's scamming activity and all the people he ripped off. (I looked for the article but couldn't find it)
This entire thing made me very weary about hiring anyone for 1 on 1 coaching in this industry for quite a long time.
As the remainder of the year finished out I continued trying other things:
I signed up on random email lists getting 'free' content about marketing
I ordered an 'email processing' system that allowed me to get a website I could market the exact same service I purchased in a loop. Basically my site was a sales page to 'sell' the same website to someone else earning me $25 for each sale. It was a really unique approach to marketing something through email that failed miserably for me.
Interestingly enough my Mortgage lending contact was the person who introduced me to Pat Flynn of The Smart Passive Income. He also had purchased a high end course called Futuristic Marketing by Jonathan Budd. It was the 2nd high end training course I got my hands on.
I purchased my first WSO called Loophole CashCow by Tom E. – This product involved an arbitrage method with eBay which I was never successful with.
I signed up for various "banner exchange" style traffic networks, there are too many to list.
I purchased Hybrid Connect – The first lead generation capture plugin I ever tried for WordPress, the creator of this plugin now runs Thrive Themes.
I created an account on Clickmeter – a link tracking tool
I also spent a lot of time reading blogs like Social Triggers by Derek Halpern and watched all of his webinars. I had learned about Derek through this site review he did for Ana.
I even remember specifically one night being at a friend's house and watching one of Derek's YouTube videos. This 'friend' leaned over and said "You gotta knock that shit off" referring to the fact that I was spending all of my time learning about internet marketing and it was all garbage.

Not long after Derek wrote a post asking for some feedback on issues people face and I commented about how my friend didn't believe in what I was doing. Derek picked my feedback out of hundreds of comments and wrote this very blog post about it – What To Do When Your Friends & Family Don't Support You.
It was also around this time that while I was following posts from Ana Hoffman she promoted a product of Danny Iny's called Audience Business Masterclass. I joined a webinar with Danny and quickly found myself convincing a friend of mine that this was a smart move and this product would "be the answer" to my problems. I quickly found out this was a course entirely all about guest posting and Danny's success with it.
I disliked the course overall and ended up getting a partial refund, I believe around $200 of my $500 purchase.
In 2012 I also started a music community site out of passion called Metalcore Kingdom – it was site dedicated to the 'metalcore' sub-genre of metal music where I'd start posting up metal music videos. I still run this site today but it's very passive for me in terms of the work I put into it.
2013:
As if 2012 couldn't be an absolute mess of me trying things out doing everything from traffic exchanges to automated backlink tools I really had not made any money yet and was just jumping around trying everything I could get my hands on.
In the beginning of 2013 a lot of Empower Network folks started talking about another opportunity called Banners Broker where people were supposedly investing money and making quite a bit back through some form of 'banner traffic'. I got so excited about this opportunity I literally went through hoops just to get signed up.
I had to open a brand new Visa credit card to submit a $700 payment through a system called Solid Trust Pay. They wouldn't accept debit cards or Discover so this was my only option. Despite a close friend of mine constantly telling me this was a terrible idea I decided to do it anyways because of all the people I saw on Facebook having immense success with this system.
When it came time to make a withdrawal my payments were put on a huge delay for months. Luckily I was able to perform a charge back and get everything back, I just wasted a lot of time and energy only to later realize it was all a big pyramid scheme.
Throughout the beginning of the year I continued down a similar path:
I signed up on sites like EzArticleLink – for getting more SEO articles or links
More traffic exchange sites like Vagex
I signed up for ILALiving – a mobile application MLM style network
I purchased a landing page plugin called wpezsqueezey for WordPress
By the end of January I was jumping into Russell Brunson's DotComSecrets – This was a program at the time that taught how to use free solo ads to generate traffic.
I signed up for likely 8-10 different sites that allowed you do to send these free offers and tried to follow Russell's advice to the letter sending random affiliate offers to these free lists with zero success.
I upgraded my Empower Network account to the $100 "Inner Circle" which included tons of pre-recorded audio webinars they did from weekly calls.
By the end of February I was spending more time looking at products on Jvzoo and purchased a Facebook product called FB Cash Method – It involved reaching out to others on Facebook, networking with them and bringing them into your MLM opportunities or whatever it was you were promoting online. I continued to fail with recruiting in Empower Network.
Through the February/March I started checking out various 'membership' sites many Empower Network leaders ran. The idea was they could offer a whole bunch of bonuses and training if you signed up with these other teams so I checked out system's like Chris Record's "Internet Marketing Mastermind Alliance" or Mack Zidan's "EZMoneyNetwork".
I even joined up with Joel Therien's GVO program which was an entirely new opportunity at the time (looks like he just does web hosting now).
Throughout March/April:
I signed up for some free training by Kevin Fahey
I made a Bing advertising account
I signed up on CreativeLive and enrolled in a $99 course by Derek Halpern of Social Triggers about mastering online sales.
I made a 3rd Empower Network account and joined a big crazed membership site called Big Idea Mastermind. This was simply a backend to Empower Network that offered it's own training and bonuses. The idea was people would be promoting "BIM" as opposed to Empower Network. I didn't get anywhere with it.
All this time I'd still be following what I considered to be ethical marketers like Derek. I specifically remember listening to a webinar of his around late 2012 that got me thinking about doing interviews with people.
It was around April that I started putting more serious thought into the idea of interviewing successful people online. I went through David Siteman Garland's "Create Awesome Interviews".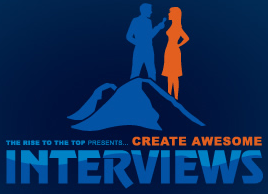 I still continued down a path of trying even more stuff such as:
Getting my first guest blog post published over on Famous Bloggers – Would you believe this post was about how to be more productive? I was really not getting much of anything 'done' it seemed but I did use Evernote to track just about everything I was doing online from passwords to taking course notes.
I created a trial account with the folks at Fizzle.co after hearing Corbett Barr on Pat Flynn's podcast – an online marketing monthly training class.
Somewhere around this time I cancelled Empower Network entirely and also told myself "I will never do multi-level marketing ever again"
By this point I was likely on so many email lists I couldn't even keep track of who I was following online. I did start to 'shift' away from MLM style networking folks and more towards ethical marketers like Pat Flynn.
I did another guest post on a site called Free Make Money Advice (no longer exists)
I created my very first gig on Fiverr and offered to do '10 blog comments' as one of my first services on the platform
I discovered NichePursuits by Spencer Hawes and became interested in building niche sites that generate income selling Amazon products as an affiliate.
I became very interested in what Spencer was doing with Niche Pursuits so I started investing into tools for Amazon affiliate marketing.
I purchased Wp Zon builder – an eCommerce style Amazon affiliate store plugin for WordPress
I purchased a WSO called Amazon Fast Track – an Amazon affiliate course
I purchased Prosociate – a replacement for Wp Zon Builder a couple months later
My first attempt at a niche site was a site called HeadrestDVDPlayer.org I had managed to make a few sales and was pretty excited when I made a commission on a $450+ electronic device. I had discovered the niche through a keyword research order placed with Tung Tran who now runs Cloud Living. I later took my losses and sold the site to the owner of a Headrest DVD company called Onfair.
It was around this time I had also put a lot more effort into the interview course I picked up from David Siteman Garland. I specifically remember telling myself "This is it, get through this training and just fucking do it".
I remember my computer was setup next to my bed which allowed me to simply turn my monitor towards my bed so it was as if I was watching TV so to speak. I simply laid in bed taking notes and watching all of David's training.
During this same time frame I had also decided to go through Derek Halpern's course 'Blog That Converts'.
Derek's course was pretty good but I had a hard time putting it into action, it all felt very broad and generalized which I suppose it had to be. One of the things I took from this was a method he came up with which was to use a phrase or technique and then market it through a blog post or otherwise.
I came up with "The Testimonial Technique" and my idea was to interview people and somehow spin this into some form of testimonials. The idea was so bad I could hardly even explain it, but for my first 10 or so episodes of my podcast this is what I called it.
Derek later wrote a blog post called 'The Perfect Testimonial' which was how this phrasing method was mean't to be used. Basically if people started talking about it they would all come back to Derek's blog and know that it's "his" thing that he came up with which in turn could create more viral traffic to his site and people talking about him.
It took me about a month of back and forth thinking but I finally came up with the domain Voices Of Marketing and registered it towards the end of July 2013. Much to my surprise it was not registered and I felt as though I really nailed a good domain name. I re-directed everything from John-Shea.net into this new domain and I got rid of the testimonial technique branding.
I didn't really have a specific plan, all I knew was what I wanted to start interviewing online entrepreneurs and people that I followed online.
It was also around this time I started to really dive into what Pat Flynn was doing online and I basically became obsessed with his podcast. I believe for about 2-3 months straight I listened to absolutely nothing in the car except for his podcast episodes and at the time of starting I think he was around episode 70 or so. On average each trip to work at the time was about 40-50 minutes which would allow me to listen to just about 1 entire episode.
This allowed me to discover even more people like Corbett Barr or Lewis Howes among tons of other people having success online. In a way it was amazing to hear all these stories but at the same time I was being thrown different 'ideas' of what all these people were doing. It was just listening to one path of success to the next always getting me thinking about something else I could dive into.
I started doing interviews just reaching out to random people I had connected with and even by my 12th episode I somehow had managed to interview Pat Flynn. Part of this was at the time he was contributing to the Fizzle.co membership and I shared in some thread about how I wanted to interview him and he replied to my thread asking me to email him about it.
I remember I was more nervous about this interview than I think any other that I've ever done. I believe that was because I really looked up to him like he was a real internet marketing 'celebrity' of sorts after listening to his podcast and reading his blog.
I started trying to build a list on this new site from any podcast listeners I'd have coming back to check me out. I decided to discontinue the $19 Aweber service and go with the $15/month GetResponse service instead.
As the months continued I got a lot more serious about podcasting but I also continued down the path of 'shiny objects'.
I'd get free products or plugins from people I interviewed – Even more distractions, most of which I glimpsed over and never bothered with
I got a free productivity cheat sheet from AppSumo in attempt to get more organized
I joined a $100 program from Corbett Barr called Start a Blog That Matters – I went through pieces of it but never took action or completed it.
I purchased Arbitrage Underdog from Tom E. – a software product that would scrape Fiverr and Craigslist so you could do arbitrage work between Craigslist work and buying on Fiverr. I actually somewhat used this successfully to help someone I found on Craigslist to sell a website for over $700. I wrote about this product here.
I bought a product from Ramsay Taplin of BlogTyrant.com called Subscriber Special Ops which was all about guest posting for $97. I thought it was a great product but never put in tons and tons of energy into doing lots of guest posts which was what the course was all about.
It was around this time I'd also been closely following Mike Thomas of MikeFromMaine.com for many months who was doing interviews just as I was. The main difference was that he only interviewed people who created products mostly in the Jvzoo & Warrior Forum crowd. I had been just interviewing people who were involved with anything to do with 'Marketing' online.
He interviewed someone by the name of Vincent Boccalino who created a product called Simple Novice Profits. Mike had implemented the method Vincent taught and was making money with it very quickly so I decided to of course jump on board and buy it for myself.
It was all about selling SEO services in a packaged format. The idea was to take 4-5 Fiverr services and sell them on the WarriorForum or on eBay.
I loved the concept of the course but never really put it into action. One thing that stood out to me with this product was the delivery of it. Being somewhat of a perfectionist I disliked the delivery page being a pure un-protected HTML website with little polish and some vague videos Vincent had put together. He even had a mess of text files and zip files everywhere, the entire product delivery was a total mess.
I had been toying with the idea of building membership sites so I approached Vincent with an idea to create Simple Novice Profits v2.0 but this time we move all of the content into a full membership site that was built out to be a stellar product.
We started doing weekly calls and we became pretty good friends. Over time I must have spent 50-60 hours developing a WordPress site using SimpleNoviceProfits.com and Wishlist member with full Jvzoo integration. I was being cheap at the time as well so I didn't pay for Wishlist member and used a hacked copy of the plugin, which as far as I can tell to this day worked perfectly fine.
As the final product was being completed to my standards Vinny sort of stood by on the sidelines and when all was said and done he decided to change some major components of how things looked such as imagery, text and other things which held up re-launching the product.
When we finally came up with a product we both loved we simply re-did the sales page on his WSO thread (images no longer work because the site is no longer) and bumped the thread with the v2.0 new look and feel.
We hardly made any sales and neither of us really had any connections with affiliates to help us push the product launch. All of his existing buyers came in and we had a bit more control of who was on the email list but it was mostly a flop.
During those same months I continued checking out other opportunities and 'shiny' stuff.
I purchased an upgrade to the 'wpezsqueezy' plugin purchased the prior year and grabbed 'ezfbsqueezey' which is no longer available.
I played around with a welcome gate by the creators of Leadpages
I joined my first CPA network Affiliaxe – CPA is a method of collecting emails and other information to earn small rewards for every action someone takes
I joined John Lee Dumas's Podcaster's Paradise for $197 on a super early bird. This course covered everything there is to know about podcasting, I even helped contribute some content to the course for John in it's early stages on Google Hangouts. The course now costs $2500!
I started interviewing more big name people on my show and even got shout outs from people like Andrew Warner of Mixergy
$2000 I Might As Well Have Thrown In The Trash
It was also around this time in September of 2013 I started browsing sites like Flippa.com randomly.
I came across this listing about someone looking to share a split in a web hosting business. I asked my good friend James of Axcelx whom had been in the hosting business if it was worth investing in. Of course his advice was no but I took it upon myself to do things my own way. This typically involves me asking people for advice, getting an answer and just doing whatever it is I planned to do anyways regardless of what they told me.
So I took a conversation off Flippa without doing any actual transaction there. The owner of this site Host My Dot had the vision of becoming the next GoDaddy in the hosting world. He was making a solid income of a few thousand per month and the idea was if I invest $2000 with him I would make 20% of anything the business makes.
He planned to re-invest my profits into more hardware to grow the business. For months all I received were excuses and even went out of my way to open an account with a service called Xoom just to send the money to his international bank (He was in the UK).
I might as well have thrown this money in the trash.
Between the emails sent to him, the phone conversations and Skype chats it was probably one of the biggest mistakes I've ever made.
I chocked it up as a total loss and eventually he told me the business was going under, his email address stopped working and the website went down after about a year 1/2 of asking for my money back.
My First Warrior Special Offer
I launched my very first WSO called 'The Ultimate Blueprint To Reaching Out To Online Entrepreneurs' which featured advice I put together on connecting with entrepreneurs through my podcast and just in general. You can have a free copy here.
I made very little sales from it but was still overall happy with what I had put together:
I continued down a path of buying more products and checking out new stuff:
I bought Pinvasion – a product on using Pinterest. I was glad I bought this because I actually talk to the creator Mehdi Tihani still today in 2016.
I bought a product called FbAdDynamo – a Facebook product that I'm not even sure I remember what it was, likely something to learn FB ads
I spent time on forums like The Bot Net trying to make a quick buck by offering methods for making money, I can't remember exactly what at the time
I purchased another flagship product called Six Figure Alliance (no longer exists) through Tom E's affiliate link for $397. Given I'd followed Tom since 2012 and loved his products I trusted his recommendations. The owner of this program, Kenster was a great guy and the founder of WarriorJv.com His program was awesome but very general and I never really put it into action fully.
In between all of these things I also had a niche site desire to build a real profitable Amazon affiliate site. I had started to interview people like Matt of the DumbPassiveIncome.com who were doing lots of stuff with niche sites.
I proposed an idea to my girlfriend Brenda about working on a site together. She came up with the idea of how she loved clothing and accessories that had 'skulls' on them so I went out and registered the domain name Skullclothing.net. The .com was unavailable and I mostly made this choice based off of the search volume for the keyword being over 1000 searches a month.
My assumption was the site would eventually rank well being an exact match domain. Without fail the site has actually been #1 on Google for over 2 years.
The plan was to build something I could work on with Brenda while also creating something profitable. Prosociate was being consistently updated and going through various beta revisions. Brenda managed to help me add thousands of products to the site and I spent many hours designing the site using a theme I managed to snag off of a forum.
The original design was terrible and the site was running under Bluehost which was god awful slow.
I looked for feedback and really tried to get the site going to the best of my ability spending a ton of time on it all while still doing my podcast and exploring some of these other products here and there. Eventually Brenda lost total motivation due to the site not making any money in comparison to the time she had invested into it.
Even worse was as Prosociate got updates it required us to re-add products from scratch in order to capture data such as auto-filling Yoast SEO titles and meta descriptions for each product.
For the moment I gave up on working on the site and continued with other ventures. I wrote about some of my eventual success with this site in this post here. More on this a bit later..
My First Official Side Gig From Everything I Learned
Towards the end of 2013 I started looking around at opportunities on the ProBlogger job board and decided to apply for a writing position with a company called The Blueprint Entrepreneur. Much to my surprise I put on quite a show and used to write some crazy long emails (kinda like this blog post) and had been back and forth into Guest Posting.
I shared examples of prior content I'd written and also a lot of the work I'd put into Voices Of Marketing doing interviews with lots of successful people. They ended up hiring me and before I knew it I was being paid as much as $400 to write posts like this one on guest posting with Ramsay Taplin all the while utilizing my interviews with a clear purpose.
I even did another epic post and interview with Steve Kamb of NerdFitness.com – This one was awesome for me because of my initial first WordPress site I talked about earlier in the post called Team Fit Gamers. Steve had basically created what I had always wanted to do.
The posts themselves took me in the realm of 10-12 hours to create, not including setting up a time with each guest and doing the actual interview. My interview with Ramsay actually took me about 4-5 months to land due to his scheduling and that he was away on a trip for many months. The key was being persistent with follow up and not forgetting to reach back out.
I did one last interview for the Blueprint Entrepeneur with John Lee Dumas on Webinars which I was paid $150 for without writing the actual content.
I felt like my podcasting was finally paying off but the amount of work I was putting into the content was draining on me due to how many revisions they would have me make.
During this same time I had discovered lots of other people who were interviewing successful people. From a suggested video I saw Navid Moazzez interviewed Pat Flynn so I started interviewing a lot of other podcasters who were sort of 'newbies' at the time. People like Navid Moazzez or Michael O'Neal of Solopreneur.
I managed to build some awesome relationships this way which allowed me to land a guest post on Navid's blog (A guest post about guest posting!) and a killer list style post about 15 entrepreneurs you should follow online over at Entrepreneur on Fire with John Lee Dumas.
2014:
I continued checking out products, many of which came from being on Mike's email list as I was getting hit with new stuff all the time.
By February I created another WSO (Warrior Special Offer) product called Fiverr Untapped. The idea behind the product was I would share my successful method for doing interviews on Fiverr and how it generated me quite a few sales. I hired a copywriter and sales page expert Nick Arnold for around $200 and Mike Thomas helped me promote it on his show Mike From Maine.
I also promoted Simple Novice Profits as an 'upsell' at the time which did make a couple hundred bucks and allowed me to make some more money off of a partial failed re-launch of a product.
Given the sales, I don't know how much was actual profit considering the effort I put into it and that a large portion was paid out to affiliates like Mike. I also missed the boat on doing things like offering 'bonus prizes' to affiliates. I got interviewed as well by James Knight and Kristy Chiles and when they asked me about bonuses I sort of just became puzzled and clueless about these things since it was my first 'real' launch with affiliate support.
Moving further into 2014:
I had spent a lot of time learning from the interviews I had done and this Kindle book was a way to express that. It also included fully transcribed text versions of the interviews I did with Pat Flynn and Andrew Warner. I think I've maybe made at most $20 in sales from it.
Moving On From a Long Career In Tech Support & IT
It was right around this time some big changes started to happen. I moved out of my 6 year job with a company called Omtool doing tech support and started seeking out work that had anything to do with SEO or online marketing. I stumbled upon a job on Craigslist for an eCommerce marketing coordinator and it didn't particularly peak my interest but I knew I had to get out of my current job.
I basically just wanted something in the online space.
You can see a full outline of my actual employment history by checking out my resume here.
I was hating every minute of working at Omtool and couldn't stand the management any longer so when an opportunity arose to work with SnowStoppers (Veranda Outdoors) I jumped and took whatever I could get which happened to be $19/hr with zero benefits and no salary. Where as at Omtool I had been making around 42k a year with full benefits.
The owner Tim had patented a kids winter mitten that had a sleeve only he owned the patents too. His product was absolutely dominating Amazon during the winter months. I assisted with helping them move from an old HTML site into a brand new Magento site he spent over $10,000 with another company having them get it developed. Yes, this site cost him 10k.. what in the actual fuck was my thoughts on this.
I also helped them migrate to a new multi-channel ordering system called Brightpearl, while also assisting with some light customer service, some SEO and a lot of general stuff surrounding Amazon FBA.
I took a much larger interest in eCommerce overall and even found myself back on the Best Black Hat Forum grabbing a copy of the massive Amazon FBA course "The Amazing Selling Machine" which was a $3500+ course. I watched most of it but never committed to selling anything on Amazon myself, I mostly wanted to learn what I could apply to my actual job.
My First Big Opportunity Online
While I was working at Veranda there was another opportunity that had come up on the horizon for me which was quite random. In one of my very first episodes on Voices Of Marketing I had interviewed Jon Haver of AuthorityWebsiteIncome.com
Jon was huge into SEO, doing affiliate sites and offering private blog network services. He approached me with an idea to write some content for a new site he was developing about email marketing tools. I had agreed to help him since I had been using Get Response and had previously used Aweber as well.
During our conversation I threw out the idea of working on something much bigger together and he agreed he was also interested in this. We did a couple of calls and brain stormed some ideas which led us to opening a 'public' private blog network where people could buy links from us.
Most of my SEO experience had been from the beginning stages of Empower Network using automated tools and learning from people like Rob Fore. (Rob was Todd's sponsor in Empower Network and I also interviewed him on Voices Of Marketing).
I knew a good amount about SEO but had never put a huge amount of time into trying to rank websites at this point.
Jon was having a lot of success doing this, his audience was 100% all about everything he was doing and the massive buzz he was generating around creating private blog networks.
We came up with a brand name of LightningRank and decided to partner up 50/50 on everything.

At this point my partnership with Vinny on Simple Novice Profits was mostly dissolved and we kept in touch here and there but a few things made me weary about a new partnership.
Vinny had not shown up to many of our phone calls in some cases I'd have Brenda pausing a TV show we were both watching so I could join him on a call where he never showed up
He changed a lot of the work I put into the membership site and this was something I didn't want to deal with again
Much to my surprise Jon was very organized (His day job was doing project management at large scale, pretty sure he makes 6 figures doing it) and he showed up to every call. We made progress at a rapid rate and before we knew it had the whole site ready to launch.
Here is a glimpse of our massive 130+ column task sheet we used to work on everything:
This was one of the most enjoyable approaches to a project I ever had the opportunity to work on and I really learned how to work a good partnership. Even to this day I use a similar format for any projects I tackle.
I even passed this method of organization onto Tim at Veranda and we started using it there to organize everything we were doing.
When we launched Jon emailed his list and we got a surge of new sales. Initially I was excited about all the money I was making but not so excited about the fulfillment. The agreement was a 60/40 split and I cover the article writing costs. In order to run a legit private blog network we had to post up to 5 articles per client on different websites with unique content that not only catered to the website itself but also about the site we were linking to.
Jon invested over $10k into these very powerful expired websites with lots of backlinks powering them up over years of time. Jon would have his team re-build the sites with a fresh new look and our clients would pay for a 'post' on either 1 or 5 sites and they would get a link back to their own site. The general idea was to boost up the client's sites by getting really powerful links from these super charged domains.
It worked and this method actually still works today. Just look at Source Market with all the services being offered surrounding this method.
During the initial week I was up till 2am with Brenda helping me post articles trying to keep up with our orders. I had to learn how to hire my very first freelancers using UpWork (It was oDesk at the time) and have them write content for all of the sites. Of course since I was technically paying for portions of the articles I wanted to keep costs as low as possible while still maintaining some level of quality.
I quickly found that some freelancers sucked and the articles were either being delivered late or with just pure bad quality grammar and overall quality. I'd spend more time correcting the content and posting it than I wished to care for.
I ended up hiring a company to do the article writing in bulk but there was still an issue of me needing to post everything, I managed to save a ton of time giving them bulk articles but I was still spending tons of my time formatting them for these WordPress sites.
I knew I was paying a higher premium for the articles and some came through as garbage, it was a service that paid college kids to write and in turn the company I hired would pay them a percentage and they took some off the top so I think in the end I was paying $10/article or more.
I also quickly found out that using a Google Drive doc was not working to keep things organized so I invested in a tool called WP Project Manager Pro for $60 which allowed me to manage everything from the backend of the site through WordPress.
I ended up finding a 'content manager' of sorts on UpWork and she managed an entire team of writers. I took the approach of making an entire video training series that explained how the sites worked, how to publish on WordPress and pretty much handle all of the back end grunt work so I could outsource it to her and her team entirely.
P.S. She's taking on new work so if you need content feel free to let me know and I'll make an introduction. 
Things were going smooth and after about 3-4 months and lots of $1000 days we were making some serious money:
I remember waking up some days and having made over $1000 while I was sleeping, the experience was pretty unreal and really opened my eyes to what was possible online.
Not long after Jon approached me and had found most of my own marketing efforts had failed, I couldn't get an affiliates to come on board and I had even made attempts to cold call local Boston SEO agencies to see if they wanted to 'buy links' for their clients. Most of them did the work in-house or simply were not interested.
Our prices seemed to be on the high side when comparing the service to some other competitors in the game and Jon was still upside down due to his initial large $10k investment in acquiring the domains and paying his team to build all of the sites.
Jon decided to offer me a buy out where he would have 100% ownership of Lightning Rank. The buy out was not all that much, I believe initially he gave me 5 of the sites to use for myself 100% on my own however I chose and $1000.
He also gave me access to get 5 posts from the network each month free forever which was a nice perk considering I could sell the links or really do whatever I wanted with them to even rank my own websites.
A lot of people I spoke with felt I got ripped off in a way but I knew that Jon was not going to do all that well long term with this model if we had continued to split things the way we were and I continued to fail to bring in any new clients. He wrote a post about the dissolving of the partnership here.
One thing I also did during this project was that I used LegalZoom to register an LLC business which ran me about $500 out of 'fear' that when tax time came I'd be getting hit with all of the taxes for everything. Due to the way we had Jvzoo setup the funds initially came to me and then split out to Jon so I was very nervous about how this would have worked. My assumption was that having a business entity would allow me to save money on taxes. I since have just let the business entity sort of dissolve on it's own.
In the end Jon was able to bring someone in to my spot (likely for an hourly rate) while also lowering the link cost and also cutting out Jvzoo which was taking a large percentage of the profits on each sale.
Moving Forward in 2014
It was around this time I had taken a huge back seat to doing anything with Voices Of Marketing.
I had interviewed around 80 people and done over 150 written interviews from my Fiverr gig and Fiverr Untapped method but I never really managed to build this massive audience or really monetize my podcast the way I wanted to. I maybe had 500 people on an email list that was mostly un-responsive and filled with junk emails from when I did solo ad stuff following DotComSecrets.
I pretty much was depressed for several months not knowing what to do. I was starting to really dislike my full time job at Veranda and didn't agree with a lot of the decisions Tim was making in his business. I had used many of my 11-8 shifts at Omtool to spend time working on Lightning Rank after 5pm when the managers went home and while I was at Veranda I used a lot of my time there when I could to email clients and use Skype to communicate order details to my content manager.
I was really starting to realize that more and more I really disliked worked for companies and being an 'employee' in general.
Throughout April I dabbled in more stuff:
I made a free account with ProRankTracker – a rank tracking tool that I could use for tracking SEO keyword rankings
I purchased a copy of Long Tail Pro for $97 – a keyword research tool
I purchased Easy Azon for $47 – a plugin for adding images and call to action 'buy' buttons for Amazon affiliates
Life After Lightning Rank
After coming away from Lightning Rank I had learned quite a bit about SEO and was still very interested in it overall.
In May I purchased another flagship product called Marketing Inc for $500 – This was a full on course on how to start an SEO consulting business taught by Glen of Viperchill.
Jon had expressed some interest in continuing to work on a project together and one of the methods taught in Marketing Inc was to build what are called 'Rank & Rent' sites where you would rank a website for a local business and sell the leads that it generates for either a fixed monthly cost or per lead.
The guys at Marketing Inc decided to throw a contest for people who would win prizes based on their effort to the program.
Jon being the project mastermind that he is put together another awesome guideline for us to follow tackling 3 different niches in some high population cities. His team started the first site and I simply made an epic post about our progress so far about starting the project with Jon in their 'Follow Along' section. I'd share the post but the forum is private for members only.
Not long after we had hardly even begun the actual work I was awarded $500 for winning the contest just by showing that we had a plan and we were starting to take action.
This was really exciting for me because I had never 'won' anything like this online and it was all purely by making an in-depth post about what me and Jon had started working on. It also in a way paid for membership there at Marketing Inc.
The project with Jon faded over time as he got involved with Lightning Rank and other custom private blog network orders. I finished one of the sites with content but never managed to get it going.
If I were to have done it over I wouldn't have picked the Locksmith niche in Los Angeles which is pretty much the worst combination ever. Locksmiths are notorious for lead generation schemes like what we were doing and LA was so competitive we would have needed to really put in some serious work.
It was also during this time I continued seeking out products that I thought would help with what I was doing. I picked up a copy of Rent-A-Serp which was designed to 'rent out' these rank and rent style websites. The plugin was awful and even faced legal trouble along with lots of people slamming the creators.
This was around the time I started putting more time into learning SEO. In June the Rent A Serp guys managed to get me hooked on a webinar and of course I ended up buying a new flagship product called SEO Prospect Profits which was all about landing SEO clients while freelancing.
I put a good amount of time into Freelancer.com and tried to make this work but in the end gave up on really putting a lot of effort into this method as I never managed to get any work out of it. I even had a friend of mine make a fake account, invite me to a job and leave me feedback just to build my profile there.
That course was how I started to discover guys like Lior Ohayon and Wyatt Jozwowski.. more on them in a bit.
Not long after Wyatt released a private blog network tool called Cloud PBN which was designed to 'manage' multiple sites. Due to my background with Lightning Rank we got on a Skype call and he asked me for a testimonial which I gladly gave, but in return I asked him for a full refund on SEO Prospect Profits which he provided to me without any issues.
Taking On Skull Clothing Full Force
I had spent some time thinking about all of the projects I had worked on and ended up deciding to revive Skull Clothing. I think part of my decision was that I had been so involved in eCommerce while working at Veranda I'd be spending a lot of time reading forums and websites like eCommerce Fuel where Tim had paid for a membership there. I believe I even still have access to the forum today (Yup, just checked).
I went over to the Themeforest marketplace and got a whole brand new theme called Crazy Diamond.
I started adding new products and I even got help from someone by the name of Ana Kuic who had been helping me for many years with my site Metalcore Kingdom, the music site I started in 2012.
Ana helped me add new products and do some basic on-page SEO. I also started putting a ton of time into growing the Pinterest page which today has over 10k followers. I even hired an expert off of Clarity.fm to provide a full SEO and conversion audit of the site's structure.
I started having blog content written, I implemented new plugins to aid with the shopping experience, navigation improvements, heat map tracking, SSL security and more or less treated it like a real eCommerce business.
I even went as far as to use a business EIN (Used the same one I used with my LLC I made when I was working on Lightning Rank) and ordered a whole $700~ worth of whole sale clothing which I sent to the Amazon warehouses using the FBA program. Most of this product never sold on me so I made a loss there but ultimately found my affiliate efforts were working to some degree.
When October 2014 hit with Halloween I had a good month where I managed to make around $250 of the $3500~ in product ordered as seen below: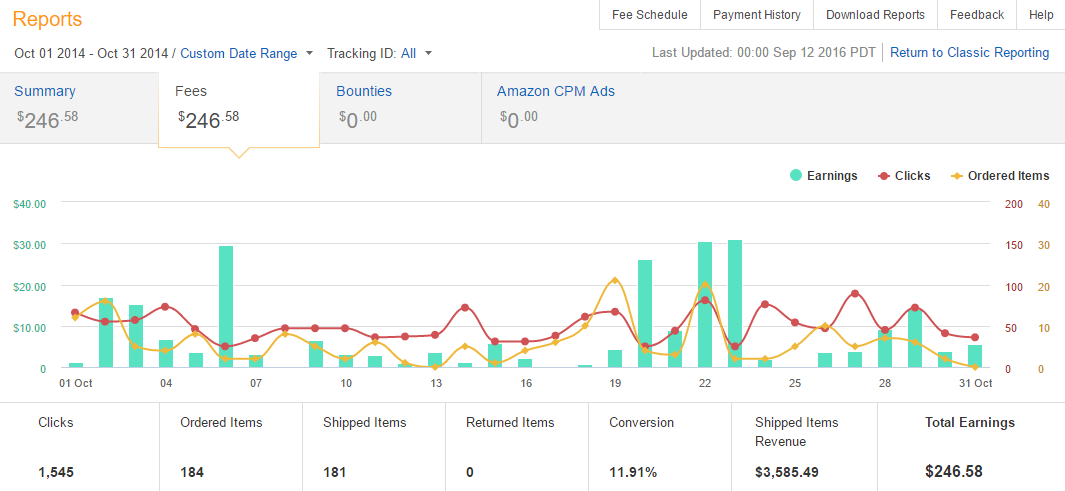 I continued trying to grow the site but further months proved to bring in only around $100 and for all the effort I was putting in it didn't seem like I was getting much out of it so again another project I simply lost interest in trying to continue to build.
I started jumping around again, even spending some time checking out 'free' stuff friends gave me such as a WordPress plugin from Smartduu.
When August came around I had stayed on the email list of Kenster from Six Figure Alliance. He made a HUGE push for this new CPA product called CPA Evolution which if you remember I had at one point signed up and registered on Affiliaxe in 2013 to learn a little bit about CPA. I had also interviewed Lee Martin, the founder of one of the largest CPA marketing forums out there CPAElites.com.
I found myself convinced this was another opportunity I just had to try so I signed up for CPA Evolution for $297 and in a way took the course pretty seriously. I was doing the same thing way back when I had found myself watching 'Create Awesome Interviews' with David Siteman Garland.
I got as far as making an advertising account with Plenty Of Fish and was running CPA campaigns for 30-60 year old men who were interested in dating Asian women using the Affiliaxe offers. I even had built an entire custom landing page designed to capture the traffic and get some email submits.
My initial campaign was a flop and did get me some sign ups but the overall ROI was in the negative. I slowly but surely lost interest in the model and never ended up finishing the course in it's entirety.
I made a whopping $10:

Part of the reason I joined up through Kenster was because just a couple months before he was pushing a follow up to Six Figure Alliance he called "The IM System" which he ended up giving away as a bonus for people who purchased CPA Evolution. This was one reason I had committed to buying it. I briefly checked out parts of the IM System but never actually put anything into action with it.
It was also around this same time I first stumbled upon a Pinterest automation tool called Pinbot. I liked the concept of this because I knew it would help me potentially do some automated stuff with Pinterest to perhaps get SkullClothing back on it's feet. More on this bot a bit later..
Another Failed Partnership
By October I had stumbled upon a blog called Bold & Determined by Victor Pride. Someone who had ordered one of my Fiverr gigs told me about it. They specifically referenced the income reports I was sharing on Voices Of Marketing and seemed to think I was following the same thing Victor was doing. Although I well knew there were countless bloggers who shared income reports on a monthly basis.
I started spending a lot of time reading B&D and found it to be very interesting, it was as if a bodybuilder combined forces with a life coach for men and an internet marketer in some ways. Victor was selling books on health and fitness as well as a challenge he created called the 30 Days Of Discipline.
I decided this could be a good change for me so I took the challenge full force and followed it to the letter. Not only did I do the challenge but I made an entire website dedicated to it over at 30 Days Of Discipline Journey.
At most anyone who did this challenge either made a shitty blog where they barely wrote anything or they had a decent blog setup and wrote an in-depth review of the challenge. No one but me made an entire site dedicated to it, I even went as far as to make a podcast which was live on both iTunes (it's no longer there for some reason) and Stitcher.
Victor caught wind of what I was doing and saw that I was an action taker.
I created my own challenge which I ended up calling "30 Days Of Sacrifice" which I put up on Udemy as a short course. Many of the videos had messed up audio so the course got terrible reviews.
At first I didn't want to mention this to Victor at all but figured maybe it could lead to something else, a partnership perhaps.
We started chatting over email and he asked me to skip working on my own challenge and rather help him with putting 30 Days Of Discipline on Udemy with videos to talk about all of 12 disciplines mentioned in the PDF version.
So that's exactly what I did, I took a similar approach to what I did on my journey site and made 2-3 minute videos covering content from the eBook and put up the course with a 60/40 split on Udemy here. Overall this has been a success and I've earned about $400 from this so far even with that split.
Moving onto something bigger..
This led to some more emails back and forth and an idea to help him create a killer product for his audience all about how to become a 'professional blogger'. We had very few actual phone conversations and my attempt at making a spreadsheet to organize goals like I did with Jon on Lightning Rank was something he maybe spent 2 minutes actually looking at.
I ended up spending some time teaching myself how to run webinars with the intention to present this course to his audience once it was complete. This led to me taking another course off of a forum by Lewis Howes called 7 Figure Webinars. I completed the course and felt like I learned a lot more about how to run webinars overall despite watching many of them since 2012.
Victor ended up registering the domain BlogArtistBootCamp.com which we both felt was a good name for what he was trying to convey on B&D. He always talked about how blogging was an 'art' and he was a 'professional blog artist'.
I convinced him to buy a copy of ZippyCourses which is a WordPress membership site plugin. I figured I'd use something modern instead of going back to Wishlist member like I had done with Simple Novice Profits and the project with Vinny. I also convinced him we needed high quality video hosting so he signed up for a Wistia account on his own dime.
Since the communication was light the project was something I was investing all of my time into to make it work with what I had.
I decided to record Camtasia screen capture videos based off of free content he had built such as PDF eBook guides on getting your blog started. I recorded 'talking head' videos of me sharing insights on what I had done with Voices Of Marketing.
I split the entire course up into multiple weeks mostly referencing Victor's material. I managed to get 2 interviews out of him which left me feeling fairly intimidated. You can skip through it and listen to one here.
When it came time to show him what I had put together I had proposed the idea of interviewing a couple people who had successful blogs that would be exclusive to the course.
When I asked Victor about including people like Mike Thomas of Mike From Maine and other past interviews such as the ones I did with Corbett Barr and Ramsay Taplin (Very well known bloggers mind you) he flipped and wanted nothing to do with anyone he did not know anything about.
Of course I had already asked Mike who initially agreed but from a lot of what I told Mike about the project as the whole it made him want nothing to do with Victor due to his overall attitude towards me on the project.
To complete the project I really needed a solid landing page, I used Thrive Themes to build the landing page which I spent a lot of time on. Being someone who had never done sales pages or was much of a copywriter I simply did the best that I could because Victor wanted me to do all of the work as opposed to paying someone to do it properly.
After countless emails back and forth and me being ready to review the final contents of the course with Victor he simply started ignoring my emails and forwarded the BlogArtistBootCamp.com domain to one of his other properties where he promoted a web hosting offer.
He essentially 'shut down' the membership site with all of the content I had produced, everything from spending hours on learning ZippyCourses, to uploading content, formatting the membership site and building the landing page. All of it was gone and I never got a reason why. Had he been more communicative with me on the project I would have gladly made big changes, it was something I expected after working with Vinny on Simple Novice Profits.
The positive part to all of this was I owned all of the video content so I waited about a month and never heard anything from him so I turned it into my own course on Udemy called Professional Blogging: A Step by Step Blueprint which has now earned me around $550~ passively on that platform.
I also took what I learned about ZippyCourses from this experience and made an entire course about it which I gave away for free for a very long time on Udemy. It has over 7000 students now.
My New Job & My First Big Win With Udemy
As time progressed at Veranda I decided to 'on a whim' apply to a job opening for an eCommerce manager position with a company that sells violins and accessories called Johnson String Instrument. I was not actively looking for new work but overall was becoming unhappy at at Veranda.
I was pretty excited about the opportunity initially as they offered me full benefits and a 10k+ salary over what I had been making at Veranda. They offered me 50k which would have been my highest paying job ever.
After sitting with the manager who was leaving I quickly realized there were a lot of 'gaps' in their workflow, almost everything was entirely custom. In fact the CEO had apparently spent thousands of dollars building a custom CRM that was used for everything from ordering products on the website to capturing customer information through a cloud based system.
It was basically the biggest piece of shit software I'd ever used for handling product orders through a website.
By this point I was very experienced with Magento, I had tried a trial of Shopify and I had used WordPress Woocommerce when I built Skull Clothing so I flat out knew this system was terrible.
I ended up spending an entire week walking around talking to staff asking for feedback on systems and and how they worked on different things, what was good and what was bad.
I got so much feedback I ended up building a huge report that was literally 66 pages long. It was practically an eBook of images showing software and tools, workflows and more. You can actually download it here.
I had the opportunity to sit down with my boss and the CEO to go over the entire thing which we barely covered in an hour's time.
The feedback that I provided to them was to scrap this aged setup and custom solution and go with a Shopify solution with a whole new website or a more modern setup to handle the growing world of eCommerce. The existing website was in all HTML and most likely had terrible conversion rates.
The actual custom system they had was designed to handle custom 'trial orders' of violins but all the system did was email a report based off of a custom form on the website. Which then a customer service rep would simply print and manually hand enter the information back into the custom CRM. The amount of paper being printed for this stuff was also stupid.
I remember specifically talking to the CEO about this functionality and he literally didn't get it. He didn't see that his custom solution was doing absolutely nothing to help with the actual trials of the instruments even though that was the #1 reason he had gone custom in the first place.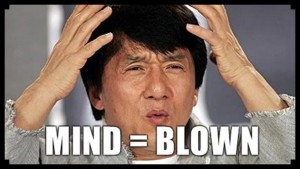 So for those first few months I came in motivated and ready to make this company make some big changes but they refused to walk away from this custom system. It was like the guy had a Ford Taurus from the 90's with 200k on it and he decided to continue investing into 'parts' by building a new motor and replacing everything that continued to break.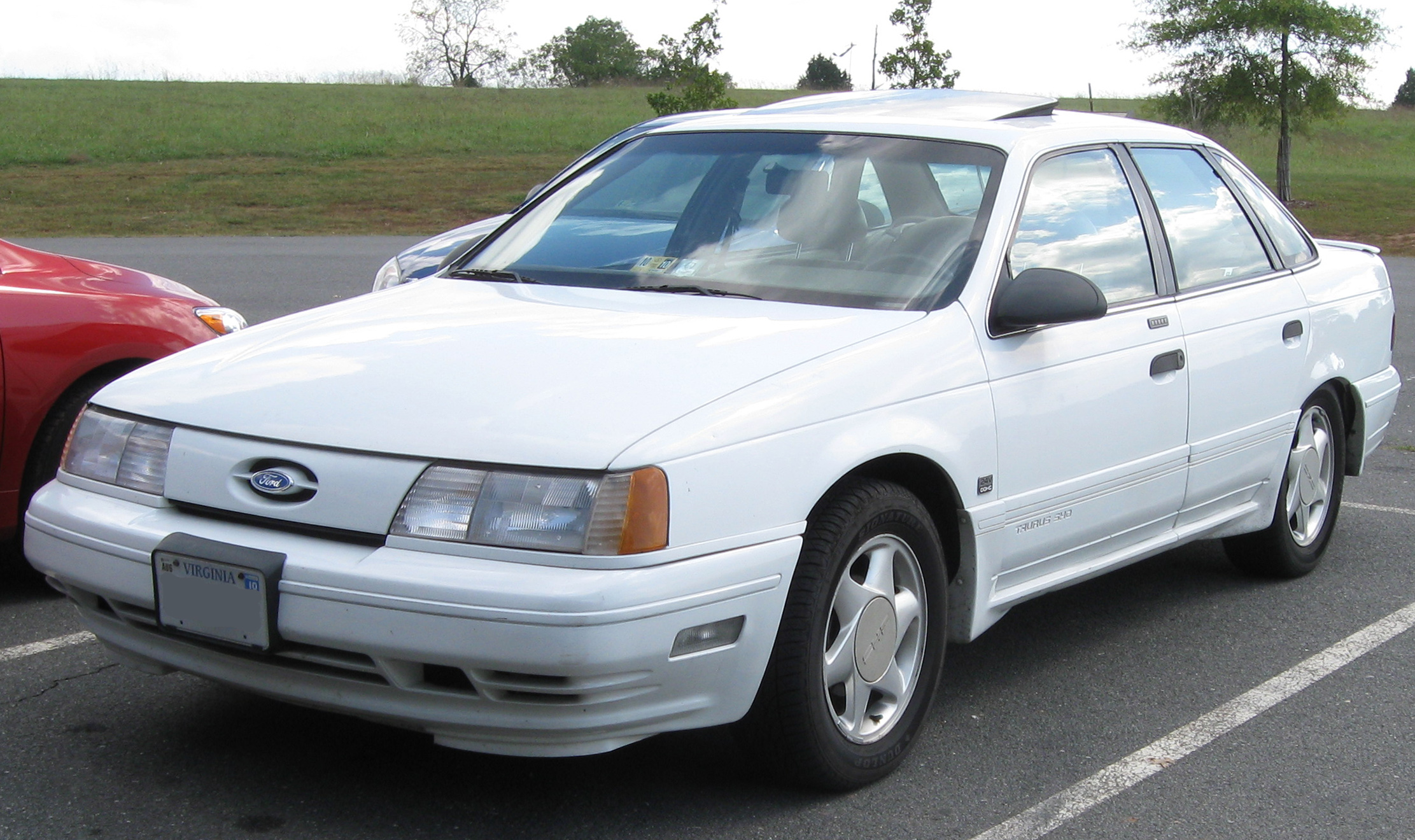 I eventually came to this realization that no one really paid much attention to what I did at work and the minor tasks that I did have I could get done without spending a whole lot of time on them. My desk was positioned in such a way that I could literally browse the internet all day long and no one would have an clue as to what I was doing.
So being completely uninterested in trying to help this company by this point I stopped caring about my job and did the absolute bare minimum without anyone noticing. If anyone came to me with some questions I'd portray a very high level of things I'd been doing or worked on and no one said a thing.
I even found out one of my co-workers was using the time clock to login from his house using a website I only found out existed many months after I'd been working there. Normally we would clock in through the back of the building on an actual time clock device for the hours we worked.
It eventually got to a point where I'd asked my boss if I could work 1/2 days from home so I'd literally get into the office most days at 10am and leave by 2pm while clocking some time in the morning or in the afternoon. A lot of the reason I did this was my commute was over 35 miles each way on the worst 2 highways for traffic at rush hour.
I had a single morning where I left early on purpose and it took me an hour 1/2 to get into work, this drove me insane especially because my car was a manual and driving a stage 3 heavy clutch in traffic sucks.
Most of the extra time I had between being there was spent either working on random internet marketing activities or watching Netflix because I completely stopped caring.
Meeting Up With Navid In San Diego, CA
It was around March of 2015 Brenda decided she wanted to take a vacation to San Diego to visit her family. She grew up in California and I had never been to the west coast so of course I was 100% on board with taking a nice long vacation there.
During my time there I happened to have been talking with Navid Moazzez a lot over Facebook and he was actually living right off of the beach in San Diego. He was only a few miles from one of the hotels we stayed at so I got the opportunity to meet up with him for lunch and talk entrepreneurship. He was also living with Natalie Sisson of the Suitcase Entrepreneur (I didn't get the chance to meet her in person unfortunately but we have spoken a few times over Facebook).
Navid had recently completed his very first virtual summit bringing him thousands of leads which in turn allowed him to in turn promote one of Ramit Sethi's flagship courses and become one of Ramit's biggest affiliates.
I was blown away that he had gone from making $12/hr at a bank to interviewing people just as I was all the way to becoming a huge affiliate partner of Ramit's in such a short span of time.
It was even cooler that he came all the way from Sweden and we just so happened to be in the same place at the same time. I never put serious thought into doing a summit myself but it has always been something in the back of my mind for many years.
Hitting Gold with Udemy
It was during my time there I remember I had a single day in the office where I came up with an idea to teach a new Udemy course all about my journey with Skull Clothing. I spent an actual work day writing the syllabus out in a Google Drive, that coming weekend I locked myself in my office for 5 hours straight on a Sunday and recorded videos one after the other.
This was what eventually led me to building my most successful course online today – How To Start a WordPress WooCommerce Amazon Affiliate Store.
That November Udemy ran their 'Black Friday' sales and for the first time ever my Udemy income went through the roof compared to every other month:
As of today, not including other marketplaces this single course has over 5000 students and has generated me over $6000 and I made it in under 4 days.
Diving Back Into SEO
Around November I started roaming around looking at SEO courses again. I'd been a long time follower of Alex Becker of Source Wave ever since seeing him on Pat Flynn's blog back in 2013.
I had been on and off following his email list through out that time and had checked out some of his products here and there while scouring the black hat forums.
He launched a huge product called Source Phoenix (review) which was a $1000 product.
I got my hands on the course and ended up mostly watching lectures from Kotton Grammar who was widely known as part of a huge SEO community called OMG Machines. Kotton shared a lot of strategies on getting clients which inspired me to go out there and attempt doing this for myself.
My first venture was seeking out SEO jobs on indeed.com job boards local to me. I very quickly found a 'part time' job position for a local insurance company and before I knew it I was meeting face to face with them as it were any other job interview. I had a time advantage due to the fact that I was still clocking out early from Johnson String.
By the end of the meeting I proposed the idea to take on this opportunity as a consultant and offered to visit them in person once a month to share reports and progress. After some slight negotiation I managed to get them to agree to $1000/month which at the time was amazing for me.
I was making a little money from Udemy at the time and doing some other small stuff like selling Fiverr gigs (I mostly gave out coupons to my courses), but nothing making me any serious amount of monthly income.
I had a pretty good idea of the types of things I could be doing to rank a client but didn't 100% feel confident in doing everything. I just knew that this company picked me because of some of the random stuff I threw into my resume about doing SEO for my own brands and prior companies like Veranda.
I ended up reaching out to a company in Colorado called 51 Blocks that offered a white label Local SEO service. I had used services like Posirank (Mentioning Source Phoenix got me a large discount) and The Hoth initially to do some legwork like link building for getting backlinks and I had some girls on Fiverr write some content for them.
The relationship with 51 Blocks went smooth as silk, they would share a month end report that was branded to me and at the end of the month I'd walk into the insurance company to review what was done the prior month. The white label service ran me $250/month and the best part was they were getting great results in the local map pack eventually moving up into position #2 for 'insurance city' type terms.
I was on top of the world as my 'work' consisted of me visiting their office once a month for an hour to chit chat, get handed $1000 check and walk away with $750 in profits each month without doing anything else.
I did this for many months and started to really put some more effort into client SEO.
Starting Frozen Wave Media
I decided to start my own solo consulting agency offering SEO services. I came up with the name 'Frozen Wave Media' and built an entire site which was more or less a landing page of sorts that I threw together in a week.
I started trying out various tools, joining other SEO communities like Local Client Takeover and even bought another WSO called 'How To Start a Web Agency'. The more of these products and communities I got into the more I really started to open my eyes to the world of client SEO.
I brought on another insurance company for $750/month, got them amazing results right out of the first month using 51 Blocks and got them into the top 3 in the map pack for 'car insurance city'. Another nice win of $500/month in profits without doing any work.
I couldn't believe how well this was all working so I knew I had to put more effort into this entire model.
I invited a friend of mine to join me in my journey as he had been listening to my Voices Of Marketing podcast for quite some time and was pretty much my only real life friend who actually was interested in internet marketing what so ever. I taught him how to do website audits and we started hitting up tons of insurance agencies trying to get more into that as a 'niche' and show them we could help them.
He began to become discouraged as we struggled to bring on anymore real monthly clients, the competition was fierce and we found ourselves making very little traction doing tons of these videos audits but I pressed on anyways.
During this time I started reading a lot more about local SEO, specifically to help businesses rank in the '7 pack' at the time. It is now a '3 pack' of businesses that show up in the map results when seeking out businesses local to you.
By this point it was right around the end of the year in December of 2014. I started to look into more tools I could use for SEO purposes.
I started reading Matthew Woodward's blog and checked out his RankCracker tool.
I invested $700 in buying the full Enterprise version of SEO Powersuite – a high end SEO tool that did everything from keyword research to backlink detection, website audits and tons more.
I bought a product on Jvzoo called Offline Legion (no longer exists) – It was all about ranking YouTube videos on the first page of Google for business service terms and then selling leads that the videos generated to local businesses. Somewhat related to what I was doing with local SEO but again taking me off my path.
It was right around the end of December I attempted to do my first couple of websites for clients as I mentioned earlier. My first was a true example of "Paying It Forward". I found a plumbing ad running with Google Adwords that had no capitalization in the ad copy being used. I knew right off the start whoever was running this guy's ads had no clue what they were doing.
I ended up on the phone with this plumber only to find out he had been using Adwords express which is basically setting up and running Google Adwords from your cell phone. He had setup the ads himself and did quite a shit job at doing so.
He proceeded to go on a rant for a long time, probably 5-10 minutes without me barely getting a word in about all the people who call him on a daily basis offering web design services and help with Google.
He could tell I was different and after his ranting stopped I offered him free website help for absolutely nothing. He didn't believe me at first but I told him how serious I was. I quickly came to find out his current site was with a company that refused to share admin rights to his website.
I was left with building him a whole brand new site which I completed within a few weeks. In the end he ended up paying me $750, hooked up my washer and drier and fixed a pressure issue with the pipes free of charge. He's still hosting his website with me today and talks to me a couple times a year about regular maintenance.
Web Design was something I became more confident in as I had built so many WordPress sites over the years. I started cold calling more local businesses and ended up doing websites for a painter, a hypnotist, a roofing contractor and more contractors local to me. Most of these deals I'd charge around $300-500 one time for straight forward websites.
I also bartered for tons more services, the painter painted my entire kitchen and railing on my staircase. I got a car audio guy to install an entire stereo system in my car in exchange for basic help and SEO advice, I even recently re-did the same guy's website so now he's doing a system in my new car with all new parts for a 2nd time!
More Distractions
It was also at the end of December I happen to be browsing the Warrior Forum Classified ads sub-forum one day and came across another niche site someone had built and wanted to sell for a flat rate price of $500. The site was not making any profits but the overall design was awesome and it was another niche I thought I could get Brenda into (She never did get into it unfortunately).
I made the investment and started to use tools like Long Tail Pro to do keyword research, I'd re-use money from Fiverr gigs I'd been selling to buy articles from other Fiverr sellers. The site was just another project on the side that I continued to work on along side everything else. More on this in a bit..
2015:
Through out the early months of 2015 I continued down a path of more software, tools and courses.
It was right around this time in February I also decided to start No Shame Income as a way to move away from Voices Of Marketing. My original intent with the site was to be bold and brutally honest about everything I was doing online. If you scroll through my posts you will see I didn't do much the first year and have more recently started to share income reports about my progress.
Losing It All
I was on top of the world at this point. My job was easy and I was still bringing in some new web design clients while still dabbling here and there. I probably had made the most money from doing anything I had ever tried in the 'internet marketing' space.
It all came crashing down in July of 2015.
I was brought into a room by my boss at Johnson String and was laid off. I knew that in reality they were firing me and it was something I should have been expecting. I had known some of the other employees were catching on to me and would tell the manager about my lack of work, even though in reality none of them really knew what exactly I was doing either.
I think part of it came to light for some of them when I was gone for an entire week on vacation and they probably realized I didn't really need to be there. The truth was I really didn't, the job I was hired for I couldn't do because they refused to let me implement anything that would take any real work. All I did was help fulfill orders with a co-worker which he could do 100% himself and I'd also do Amazon FBA labels for the shipping department. These tasks literally could be done by me in under an hour and I was left to basically create other duties as I saw fit.
The CEO had an outsourced person handling just about everything you could imagine. A guy was there to handle website maintenance, another guy and a whole team to make updates to his CRM software, and even a web developer. Mind you all of these people were paid as high rate contract employees! I think part of what made him not want to take me up on my original suggestions was that it would eliminate jobs for all of these people who had been around for years.
In my opinion it was stupid that he was paying all of these people for jobs that should be mostly automated or done as a one and done deal. Even one of my close co-workers would be hand entering orders and marking up shipping times for every single website order. His entire job could have been replaced by a tool like Shopify.
I later found out they re-designed their website but it still runs on the same terrible back end custom solution. You can seriously go there now and add 99 of the same product to your cart and start moving through the checkout process. I might just order $7000 worth of music stool's and tape:
The Insurance Agency I had been working with for months decided to leave and invest in a full time employee to do telemarketing cold calls. On top of that the 2nd insurance client I was working with had only been with me for a couple months and was very unresponsive to my emails or calls when it came time for the 3rd monthly invoice.
I went from making around $5000/month to requesting unemployment help. 
I started spending a lot of time asking anyone I knew online who wanted freelance help if they had work I could do, I even helped Jon write some content for Lightning Rank.
I was applying to jobs left and right while also still 'exploring' communities online. I spent a lot of time looking back at Marketing Inc (Which had started taking on a major overhaul since my original purchase in 2014) and Local Client Takeover.
Every cold call I made went nowhere because most businesses were getting slammed with these calls daily. I didn't even have an opportunity to so much as talk about the services I could offer a business. Despite my cold email attempt of sending video audits, most people would never even know I'd had sent them a video when I called (I later realized I should have been using software to track email opens like Hubspot Sales or Yesware).
Turning It Up With Course Creation
I started utilizing Udemy a lot more during that time cranking out tons of new courses, some days just waking up and recording screen share videos all day long. I even went as far as to make a course about how I helped my cats to stop fighting with one another.
I took every idea imaginable and produced course content around it. I even came up with an idea to make a course about all the success I had with Frozen Wave Media, considering by that point I had made at least $7000+ from doing websites and SEO I knew it would be a good topic. I produced a course on how to start your own SEO agency which is now one of my most popular courses.
I made tons more courses that first month telling myself that I need to figure this out and as much as I need a job I don't want to go back to work.
You can see my full course profile here.
The income I was starting to make after that initial increase with my Amazon course gave me the confidence to do more:
It was also around this time I became more open to putting my courses on new platforms. Any emails I would get I'd start being more open to moving my course content onto other sites many of which failed. I'll explain more about what worked later in 2016.
Becoming Addicted To Video Games
Being home each and every day alone made it difficult not to want to just hangout and play PC games, I've been a gamer all my life and it's always been something I've enjoyed. A good friend of mine happened to be transitioning out of his job at a law firm and he was only working part time from home.
I quickly found myself playing a game called Warframe right around my 2nd month of unemployment. I had been playing it casually prior to losing my job but this now made it easier than ever to start investing serious time into the game, especially when playing with a friend who was always online at 1pm in the afternoon to play with you for hours on end.
As of today I have invested over 400 hours into the game, many of which were during this same time period:
I have not seriously played Warframe in over a year.
The Shopify Craze & Part Time Work
It was around this time I was also seeking out just about anything I could do to start working again that related to the online space. I was being picky but also desperate in some ways. I remember taking a phone interview for an eCommerce position that involved lots of heavy metric type work, looking at conversions and breaking down small details. I flat out told the woman on the phone what my background was and was brutally honest about it. I remember her actually stating "I don't think this would be a good fit for you".
In a lot of ways it bummed me out that I had basically screwed myself out of an opportunity by being honest about what I wanted. At the same time I didn't want to just go work for another company I knew I'd be very unhappy with.
I interviewed for another eCommerce company in person, this job involved almost purely 100% just doing email marketing for a clothing company that sold clothing for an older crowd. I couldn't have been more uninterested in a position in my life. Crafting emails all day long for old people's clothing. I wondered after the interview why I had even bothered to waste my day going to the interview.
I ended up taking a part time role for 2 different companies.
The first was a job where I'd be doing some light IT administration for a couple days a week, the job overall was Ok but also very boring. I'd come in each day and do the same tasks and just sit around on the PC browsing the internet while tasking some light administration work from employees who had printer issues or anything that required my help. I spent some of my time working on my Udemy promotions and doing some light internet marketing stuff.
The 2nd job was with a company called Tauten Sports, they needed help promoting a product online that was designed to help people tie the knot when fishing. I was never a big fisher but thought the product was cool so I spent the other 1/2 of my week working with them part time. It was basically more eCommerce but both of the owners were really cool guys unlike my last 2 eCommerce jobs. In a way it was working with a start up that had some money to play with PPC ads and other eCommerce related tasks. I learned a lot about BigCommerce and enjoyed my time there.
I started dabbling in eCommerce again when eComm Experts Academy came out and I was handed a free review copy. I went as far as building an entire Shopify store, adding dropshipped products and having it fully ready to promote. When it came time to really drive traffic I ultimately gave up on it due to the monthly fees I was paying with Shopify. There was sort of a 'Shopify' craze for a while mid-late 2015 where everyone was talking about dropshipping from Aliexpress.
Taking On a Job at An Agency
While working for these other 2 companies I had been applying to agency jobs that seemed relevant and I eventually ended up taking an interview for a full time account manager role where I'd be working with many existing clients on a regular basis.
There was some back and forth with the actual position, initially I was told they decided not to open the position at all but then later fired one of the employees within a week or 2 after my initial interview. I was so willing to take anything I almost opt-ed in for another position at the company making $12/hr and doing cold calls for the business on a low commission.
I even went as far as to order books like Smart Calling to get into the right mindset to I could take on the position with everything I got.
I ended up finding out a week later that the account manager position became open, I had already spent some time sucking up by reading the entirety of an Adwords book the owner of the agency wrote while also leaving him a stellar written and video review.
I expected to learn a lot about SEO
My hope was taking on this job would further enhance my ability to learn more about SEO and see how it really worked within an actual agency compared to me just taking courses and never seeing it done by an entire team of people.
I quickly came to realize the owner was very focused on Adwords, I mean he wrote a book on it after all.
The clients were mostly being charged around $1000/month and in some cases as high as $2500 depending on the services being offered to them. The agency really offered an 'all in one solution' so to speak where they would build a website, host it, maintain it, offer email marketing, Adwords PPC, graphic design and SEO.
They had a full time developer who built the actual WordPress themes that all of the client sites ran on, a graphic designer who worked full time in-house, a writer who wrote all of the content for the clients that also managed a small team of freelance writers, a PPC manager and the agency owner.
It was a fairly small team but what really caught my eye was that the 'SEO' program consisted of basically just content writing.
They would write targeted blogs posts for the clients once a week targeting a specific keyword like 'Toilet Repair in Boston, MA' and add something unique to the title like '3 Ways You Can Offer Toilet Repair in Boston, MA'. Once the article was published that was it, no backlinks were being built and I quickly realized most of their on-page SEO was not being done.
The best thing they had going for them was the service + city focused targeting which would bring in some results for keywords ranking on the first page.
At first they sort of challenged my ability in terms of what I knew about SEO and after going through so many flagship programs online like Marketing Inc, Local Client Takeover, and Source Phoenix etc. I knew I had way more knowledge in the room than everyone else there.
I even remember the owner stating one day "I've never known anything you can do to specifically increase the business ranking in the local maps area".
I was completely mind blown that this company was charging people in the realm of $1000+ and all they did for the clients was build a website, throw together emails occasionally, do some coupon graphics and write some blog posts.
Sure, they did Adwords as well but most of the setups always felt very cookie cutter to me. They would put in a solid setup with a well built campaign and once it was running you had the owner of the company trying to do some slight management of it while the PPC guy had 50+ accounts there was no way in hell he could possibly be keeping an eye on every account the way it really needed to be.
It showed when for several months many accounts didn't meet budget they gave us, reporting was all being done manually to calculate raw numbers for the calls the businesses were getting and a lot of things were just very disorganized. The clients could see this as well, many of whom left as soon as I was hired.
In December the company hired a guy who sort of became the owners 'bitch' as he gave him random tasks completely outside of what the guy was hired to do. One day he would be having him build Powerpoint slides for a video course and the next he would be telling him he's going to be taking on client accounts. After Christmas break the guy left without even putting in a 2 week notice and I suspected that was part of it.
I got the owner hooked on the Local Client Takeover training and he attempted to put together some really in-depth checklists using the tool Teamwork we used for client communication and tasks but overall we were bouncing from one idea to the next.
He would have 'sprint sessions' where the entire team would work on a specific client for many hours. When I realized a lot of the on-page SEO was broken we put in a huge effort to fix titles, meta descriptions and just about anything wrong with on-page SEO. The funny thing was during this we found our selves using the graphic designer and PPC guy to help because there were so many problems with the client sites. It was mostly my initiative and it also helped me get the promised 5k raise I'd get after being with the company for 90 days.
I pushed and pushed on the idea of outsourcing work where needed, he started to understand the real importance of links, citations and a lot of other SEO stuff that I had learned over the years. We eventually made an investment by using services from Marketers Center and The Hoth for citation clean ups.
Working With Clients
Before I knew it I was managing something like 35 clients and we had so many useless meetings about 'the plan' we were going to follow to get these client sites performing. I just found myself struggling to want to really be fronting all of the SEO, dealing with the clients and doing all of the actual work outside of the service providers we used.
Some of the clients were awesome and others were terrible, some would call every 2 days to ask 'how things are going' and it was non-stop. The clients were never given a firm impression of how things should work and the owner expected some form of phone communication with the clients at least once every 2 weeks. I had felt the communication was important but when results were lacking it would sort of backfire on you.
You would have some people who were so busy they wouldn't pick up the phone for months and then others who wanted to talk every other day. Since most of the businesses were plumbers and HVAC companies if the call volume was slow they would blame it on us since we were spending thousands a month on Adwords for some of these clients.
As the months went on I found myself really shaping some of the SEO efforts, looking at different tools like UpCity, Brightlocal, Ahrefs, SEMRush and more. I also disliked Teamwork as a 'task' platform and eventually started creating my own Trello boards to manage client tasks. I even eventually shaped the delivery of the reports the clients would get every month.
Despite my efforts, my colleague was managing less accounts but also had clients that expected way more out of him doing things like email newsletters and special campaigns. I think he even went as far as to help a client sell some T-Shirts online with one of those quick setup type shops. He didn't really use my Trello board or do much reporting, he just did everything the clients asked to make them happy.
I found many clients I had never spoken with who tried to leave the company the owner would give to me to convince them otherwise. I was really good at keeping people happy, I found in most situations it was simply a communication problem where the client wanted things done a certain way and they were not being done or had never been resolved. The client would end up coming to me and I'd manage them from there on out.
More on the agency in 2016..
Another Big Distraction At The End Of 2015 – Android Applications
I happened to come across a 'coaching' thread on a forum where someone was charging $600 to learn how to profit with Android applications. I was convinced this was something entirely new that no one else was teaching and it would open my eyes to another means to make money online.
I decided to go for it after carefully reading testimonials and spending a lot of time thinking about putting this much money into working with someone (Remember Robert Mercado the scammer?)
I decided to go for it.
The coaching consisted of a lot of screen share / audio calls where he would type in a notepad and share how he create hundreds of Android apps over time using a simple 'drag and drop' application builder. He even showed me where to get the software without making any large month commitments to use software like this. Many people on the same black hat forum would 're-sell' white label versions of these application builders for a one time fee vs. paying monthly if I went directly to the software vendor itself.
I started building all kinds of random apps, anything I could find keywords on from an app on children's books to an app on how to do magic card tricks.
The applications were easy to create and I even managed to pull off building one from start to finish in my lunch break at the agency, published and all. I'd simply copy one app and change out basic things like images and the app description.
The idea was to get tons of downloads on free applications and monetize them with ads through Admob (like Adsense).
I loved the idea and I knew it would work but I slowly became uninterested in the the actual apps I was building so I stopped.
Much to my surprise I logged into my Admob account today and one of my apps has over 5000 downloads and I've made around $40 since then from just a few of these apps:

It made me wonder what would my earnings be like had I continued to make an app every day through out 2016!
2016:
Continuing To Pursue More
At this point I was working at the agency so I allowed myself to 'roam' even more.
Remember Pinbot? The Pinterest software I invested in?
At the end of 2014 I started helping the owner sell it on the Best Black Hat Forum in the BSO section as an affiliate. You paid $40 and you could bump the thread unlimited times and a maximum of once per day. I ended up making around $300 in affiliate sales from it over a couple months:

In early 2016 I had already spent a lot of time talking with the owner Ilja on Skype about his software and eventually the idea came up to re-launch it into the JvZoo marketplace as a full on launch. Knowing what was possible to do with a software launch I reached out to some people I knew in the affiliate space and got introduced to Stephen Ciancio and Tim Miranda who were known for doing launches.
They provided Ilja lots of great advice on price point and how we could all do this launch as a 4 man team. Ilja of course wanted to do things his own way and refused to take their advice.
I put a small amount of time into phone calls and even a Trello task list with Ilja as well as some Pinbot Tutorials which he paid me around $100 for.
When the launch went live he made some sales but I basically made nothing and overall the launch was a flop in my opinion due to Ilja trying to launch a $100 piece of software with no real affiliate support.
Things were smooth for a while at the agency but I still spent my nights working on Udemy courses and exploring other opportunities online to generate more income for myself.
I invested in Azon Store Builder – another Amazon affiliate plugin similar to Prosociate (It ultimately was better but the developers stopped supporting it. I also made a few hundred dollars promoting it as an affiliate in my Amazon Udemy course for many months)
I purchased more SEO products like Local Leadz by Paul James.
I even spent over $200 on Maps Mentor 2.0 by Paul James – another similar flagship Local SEO course
Marketing Inc got updated with tons of new content so I'd pop back in here and there
I started moving my SEO courses into Teachable as a self hosted solution
I discovered Skillshare was starting to generate me a lot of income as another place to sell online courses. More on this later..
Even More 'Methods'
I tried another idea on a whim which I learned from Franklin Hatchett of OnlineDimes.com (You must be thinking by now.. holy fuck John.. Stop!)
The idea was to 'launch jack' a new product release by creating an exact match domain website and spamming the shit out of it with both low quality backlinks and some high end stuff, such as Private Blog Network Links (Time to utilize my Lightning Rank free 5 posts per month!). The site would eventually rank on the first page of Google for 'Product name review'.
I followed the method to the letter, ordering select services off of Source Market and Black Hat World that he recommended. My product of choice was a new Skype software coming out called Sales Envy, I picked it because no one else was talking about it yet when I searched for reviews and it was something I also found genuinely interesting.
I spent about $80 combined between the links, the content for the review and the domain. I actually tracked it all in a sheet here.
After a few weeks the site started to get indexed and ranked. It never got penalized and it pulls it's weight far above any other 'review' for the product out there.
You will see the site SalesEnvyReview.com ranking for 'Sales Envy Review' or even #2 at the time of writing this post for 'Sales envy'.
The thing was it made me zero affiliate sales even offering a bonus, but overall I found the experiment to be cool because the ranking portion really worked. I also purchased the software when it came out but hardly found myself using it.
Making Other Investments
In March I happen to come across an offer on Source Market that had absolutely stellar reviews, someone was building 1 to 3 micro 'Adsense' sites that earned money every month passively.
After little thought and lots of income from Udemy and Skillshare course income I figured what's a few hundred bucks to try this out?
Adsense is basically ads shown from Google advertisers, when someone clicks on the ads you get paid.
Initially the sites came back and they were pretty terrible, awful domain names, niches and just overall a low quality setup all together. The sites made money the first month from foreign traffic and I suspected the creator was doing something to game the Adsense system to get people to click on my ads he inserted into these sites.
Ultimately me and a ton of other people were emailed by the seller at one point in his initial stages of building the sites, much to my surprise once the income started dwindling to nothing in the 2nd month everyone started a huge email chain of complaints about the service.
I ended up doing charge back through Paypal and got I believe 90% of my money back from the whole ordeal which was yet again another waste of time.
I continued checking out more SEO products & hired a mentor
I bought Local SEO Shark which actually provided me the idea to look into BNI groups for networking with local businesses
I started testing out Crowdsearch.me – a social and traffic based SEO tool
There was also a period of time where I was feeling like I was very unhappy at the agency and more than anything wanted to be working with my own clients taking the profit for myself. The way I looked at it was if I had 35 clients and on average most clients paid $1000/month, some $300/month and others as much as $2500/month I figured I was managing a solid $20-30k in monthly clients. Doing basically all of the work except for Adwords and Article Writing, which mind you are not exactly a big deal to just outsource for a low cost.
Remember how I got a refund from Wyatt on SEO Prospect Profits back in 2015?
Well I had continued to follow one of the main teachers of that course, his name was Lior Ohayon and he runs a site called ScopeRush. I remember seeing Lior share a blog post called "How To Run Your Marketing Agency From a Smartphone". He was one of those guy's that I just happened to forget I was on his email list because he hardly ever sent emails.
My thoughts after reading this post made me wonder why I was sitting in an office every day from 9-5 and what he had done was very smart. He worked with a small number of clients and simply outsourced a lot of the work so he could have the freedom to travel.
I even remember mentioning that I had read a post like this to my boss, telling him "I just read a blog post the other day about a guy who runs an agency while traveling the world" his response was "Well I have no idea how, there is too much work to be done".
It just made me think about the difference between someone who built a business to a point where they had employees and this big office with lots of clients yet they didn't have the freedom to take a 2 week trip traveling around the world because they were so 'bound' to the business they had created.
Lior was doing things the smart way and I was very intrigued by that, I wanted that for myself.
Shortly after I found myself on a call with him and explained how my most recent coaching experience was good but not the direction I wanted to go in (The Android Apps). He told me how most of his coaching students were also people who worked in agencies and wanted out.
I ended up spending more money on anything than I ever have online, more than the $1000 on Empower Network, any other coaching or course I had actually spent money on and invested $2500 to learn from Lior 1 on 1. 
The initial lessons were on mindset and setting goals which in my opinion were the best ones. The remaining lessons were how to utilize freelance sites like UpWork, it was more or less a 'hand holding' version of what I had learned in SEO Prospecting profits. The big difference this time was I had made a much larger investment in myself and I had really wanted to make this work.
I got my UpWork profile up and running to 100% but didn't put tons of effort into doing proposals, I'd maybe submit 5-10 job proposals a month on the side while working at the agency.
It was around this time the owner of the agency knew I had some desire to do my own thing. I had started slacking more while at work and was browsing the internet quite a bit like I had done at Johnson String, I started to fall back into that 'I don't care' mode and making things more about me and my own goals.
We had some honest talks and the owner even brought me out on his boat (He had a boat club membership) during the middle of the day while all the other employees stayed at work.
He expressed the vision he had for me, he wanted me to become the 'Lead SEO' guy and eventually manage an entire team of people. I'd talk about my passive profits with niche sites and course income and how well a lot of those things were going for me.
I eventually came to a point where despite his 'big vision' was for me was to succeed within his agency, I simply looked at it as though I'd always be bound to coming into an office and always having more and more work to do regardless of my position within the company. I would never have the freedom to just work my own hours or do whatever I feel like during the day.
More on where this went later…
On The Topic Of Mindset
I have struggled with mindset for many years and I know how important it is. This was something Lior's coaching really helped me start thinking about again for the first time in years.
Part of my problem when I had started Frozen Wave Media was not having the confidence to ask more money for my work. I'd charge $300-500 for these websites which in some cases took a very long time to complete. I really should have been asking for more like $1500-2000 or even more.
When It came to mindset I always kept this one conversation in the back of mind that I'd always remember.
I once had a conversation with someone by the name of Paulo Barroso before he got big. He was a student of Vick Strizheus who created the Big Idea Mastermind (Remember this spin off utilizing Empower Network?)
Paulo told me over a Skype conversation at one point that he and another student of Vick's had invested the exact same amount of money into his High Traffic Academy Course (This was like Vick's big thing before the Big Idea Mastermind).
Paulo asked him if he had been also following the mindset modules that Vick taught in the program and the guy responded "Those are bullshit man, I skip those".
I always remembered this and Paulo said it made all the difference when it came to having success online. That was the only difference between his success and this other guy who had the exact same knowledge and tools.
He later went on to become one of the top performers in Empower Network & Big Idea Mastermind. He now does a lot of stuff with MLM style opportunities these days.
Niche Sites… Again
Of course here I was getting distracted by niche site stuff again, even though I had not touched Skull clothing in a long time the site I had purchased (which I'm leaving unannounced) for $500 back in late 2014 actually had been consistently bringing in sales every month from some content that ranked really well.
2015 Amazon Affiliate Earnings:
2016 Amazon Affiliate Earnings:
Granted the numbers were not insane, I had something that was semi working for me with this one niche site. The bulk of the income was coming in from the newer site although Skull Clothing had continued to make sales every month.
I decided why not re-invest $1800 into this site and that's where I stumbled across BrandBuilders.io, you can see my full review here and what they were all about. Jon had been using them and that's how I found out about them, in fact he was a partial partner in the business.
I loved the new design but have not spent any crazy amount of time putting more time into SEO or content for the site.
I continued checking out even more products:
I bought a whitelabel version of Pindrill for cheap – a Pinterest automation tool
I bought Instathumbnail – a tool for adding thumbnails to your YouTube videos
I played around with an Etsy Importing tool – I even made a course about this and added modules about Etsy affiliates to my original Amazon course on Udemy.
I was given free access to Amasuite in exchange for mentioning it in my course on Udemy – a high end range of tools for people doing FBA or affiliate marketing with Amazon
My 6 Months Of Consistency Plan
On May 1st I decided to setup what I call a 6 month consistency plan. The idea was to follow a specific set of tasks every day for 6 months. This was something I learned from Jerry Banfield and it worked wonders for him. I quickly realized that many of the tasks were easy but it was still a lot to do every single day.
The plan consisted of:
1 new blog post a week on NoShameIncome.com
1 new YouTube video a week
Create 2 new courses per month
Do a workout program the whole time (Like 22 Minute Hard Corps)
Submit proposals to 35 jobs on UpWork a month
I'll be sharing my results on this later in 2016…
Lots More Opportunity With Course Creation
As 2016 went on I had more and more opportunities come up with courses as this seemed to be my biggest revenue generation path.
I started taking Skillshare pretty seriously and moved all of my existing Udemy courses into the platform throughout early 2015. I would earn anywhere from $500-1000 on Skillshare each month teaching a lot of the topics based around what you've read in this post.
I even got an email from Matt Clark, remember the Amazing Selling Machine course I went through back in 2014 while working at Veranda?
Yup, Matt was the co-founder of it and he was one of the primary teachers of that course.
He later opened an entire business around teaching called Amazing.com which featured other teachers showing people how to be successful with Amazon and just business in general.
He caught wind of my Amazon course on Udemy and before I knew it I had 4 of my courses over on their platform. I've been making around $300-500 a month with them since:

I even have had luck teaming up with many other Udemy instructors like Marc Guberti (a 17 year old Entrepreneur at the time mind you!), Greg Jeffries, Doug Cunnington, Victor Pride (still a prick though) and even Jerry Banfield who is one of the top Udemy instructors out there.
I also had the opportunity to interview people like Howard Lynch (Who has over 125 Skillshare classes!), Scrembo Paul & Rob Cubbon. We all have a small group on Facebook now where we share strategies for what's working right now with online courses.
Greg and I even made each other co-instructors on some of our Udemy courses for many months and we became pretty good friends. We managed to cross promote each other's courses but within a few months time Greg found himself entirely banned from Udemy due to trying to promote external sites to his existing Udemy students. He had also gotten in trouble for doing fake reviews on many of his courses.
Greg also introduced me to a company called StackCommerce where they later bundled 7 of my courses together and sold them for $19. The first month they made me almost 500 sales where I'd earn 50% on each sale. I basically made over $5000 in under 2 months doing this which was insane!
I also had some success making nearly $1000 for publishing my courses on Ulearning.com and another couple thousand for providing course sale rights on Skillsuccess.com
I also tried other platforms like 360Training.com, VMEdu.com, Courmos.com and MobeMarketplace.com to sell courses but most of these have not turned up much. Jerry Banfield also sells some of my courses on his site.
Courses have been my biggest revenue generation tool of anything I've done online.
As of today I have nearly 50 published classes on Skillshare with over 6000 students and 28 courses on Udemy with roughly 28,000 students!
Hitting The Product Launch Space Hard – Video Course Cash Kit
Remember Mike Thomas of Mike From Maine?
Well we still kept in touch and Mike was absolutely dominating with online income doing affiliate stuff with product reviews and his own product launches. He caught wind of the success I'd started to have with my online courses and utilizing these marketplaces so he approached me with an idea of launching a product together in June 2016.
I'd create an entire video course based around my success with Udemy, Skillshare and these other marketplaces and he and his partner Brett Rutecky would do the sales page work and get the affiliates on board. The agreement was I'd make 15% after all was said and done.
The product sold for about $27 with many up-sells featuring a re-sell option of the entire sales page and course as well as some of Mike and Brett's past products on a 'one time' deal. We ended up calling it Video Course Cash Kit which you can check out the sales page for here.
I even convinced Brenda to do a cooking class with me to show some solid 'proof' that even newbies could make $200 with Skillshare. That's her on the sales page holding up a Paypal invoice!
The launch numbers were crazy compared to anything I've done prior. Mike told me the total sales were around 65k but a large portion of these were paid out to affiliate partners.
I pretty much had a flooded email inbox of $3 payments for 3 days straight which in the end added up to about $5300~ in profit for me.
I had not been this excited since I did the launch of Lightning Rank with Jon.
Up-selling Clients At The Agency
Throughout the time I was working with clients at the agency I would take any opportunity I could to sell even more services. Some examples would include:
Offering to write 8 blog posts instead of just 4 every month for another $300/month.
Offering to clean up citations through The Hoth for a fixed cost of usually $400
Upgrading clients from just SEO to also do SEO and monthly PPC management through Adwords. This usually ran around $300/month to start.
Upgrading clients from just PPC to SEO, this would usually be from $300/month to $997/month
Offering one time backlink services for $300, this might include press releases or again using The Hoth, ordering citations and more.
At one point I took some time to add everything up and I had done over $7000 in up-sells, given some of these were not pure profit I still sold over $7000 worth of services to many of the existing clients at the agency.
Remember my coaching with Lior?
Well I started spending a lot more time on UpWork and found myself quickly doing audits and proposals for a lot of different companies. I eventually found a plumbing company that had been hiring guys in India that were really not doing all that much to increase rankings for their site.
I took them through a live audit of their website using tools like SEO Powersuite and Brightlocal and before I knew it I was quoting them $2500/month.
The kicker here was after my honest conversations with the agency owner I felt more confident to bring some business into the company instead of taking it for myself. In this case it was also a plumbing company which was the bulk of the types of clients we worked with there.
I was given a straight commission for the first month and given a raise from 45k/year to 51k/year. For whatever reason this didn't get me that excited, I knew that after all was said and done this was really only an extra $400-500 a month before taxes.
I expected a commission structure to be brought to my attention which the owner had talked about many times. I wanted to work on something I could scale my income with and had expressed to the owner many times I wanted to do more sales.
Despite my work that went into up-selling existing clients and this brand new huge monthly client, I not only found myself doing 99% of the work for the client including making  but that the payoff was only a raise that really didn't increase my income all that much.
I continued to do more sales work even getting another big upgrade for a PPC client who I convinced to sign up for a $997/month SEO package with an updated web site.
Yet again, no offer of a commission or even as much as a thank you. I had been on vacation when the client's order came through for signing the contract and my co-worker was the one to tell me I actually made the sale.
So what happened? More on that in a bit..
Hmm.. What if I work on a YouTube channel?
In July I took a more serious interest in building a YouTube channel. I'd already been creating courses like crazy on these platforms and something that really peaked my interest was doing more with video. I decided to buy a simple window mount for my car windshield so I could record videos in the car on my commute every day back and forth from the agency.
I ended up getting myself a copy of TubeBuddy to help aid in my growing channel and I found myself recording almost daily. Combined with some course videos before I knew it I had a channel for No Shame Income with over 50 videos on it.
Because of my growing interest in YouTube I decided to invest about $500 into another training course by Jon Penberthy called Tube Traffic Academy. I went through the bulk of the training and learned a ton of interesting tactics. I tried to use my lunch breaks as a time to listen to a solid hour of training each day and start applying what I learned to my YouTube videos.
So I started to run some tests following the methods taught in the course but before I knew it I found myself facing an entirely new problem.
Getting Let Go From The Agency
It was around this time that the owner of the agency started to get a lot more strict about the rules. He told us we couldn't use the internet for anything outside of work use, not even on our lunch breaks. We were also told we are not allowed to wear headphones or listen to music during work hours. They even moved my desk into a position where I'd be much more exposed if I were to try to browse the internet or do anything I was not supposed to be.
He became very extreme about micro-managing all of us and it really made me not want to be coming in at all. I couldn't even use the internet on lunch because it was 'his' internet.
On Monday the 22nd of August 2016 I was let go from the agency, in some ways I knew I had it coming but was in shock to some extent.
The reasons were as follows:
I was logging into a VPN during work hours – I actually used this VPN for SEO Powersuite audits (The software is not in the cloud) and the owner knew about it because I had used it back around December/January for when we did our mass on-page SEO audits for clients. I was slightly using it for some internet browsing due to the strict limitations he put on us but wasn't completely abusing it. Apparently he had logged me going into it over 30 times.
A client that had had already planned to leave the company earlier in the year was assigned to me for his last couple of months. He discussed an idea of having me build an eCommerce site for his wife which I gladly offered to help with. (This was not the type of work the agency would do) I took on the project for $1250 and decided on WooCommerce. I stupidly referred him to Bluehost which in turn was absolutely awful for speed (Remember my first version of Skull Clothing? I moved all of my own sites away from Bluehost and eventually to Axcelx) I finished the site for the client but it was terribly slow. For whatever reason he felt it was Ok to tell my boss at the time I'd done a 'poor job' on this site for him. This obviously pissed him off and it made it seem as if I stole a client in a way.
I was using Gmail still regardless of the email rule, I also had a Hubspot sales tool that would notify me when people opened emails and apparently he caught onto this. What annoyed me about this was I had been using it ever since I started at the company which was well over 7-8 months+. I'd also seen other employees with personal gmail open on their computers before.
I had done a proposal for a new HVAC prospect from UpWork, thinking I'd bring them in like I did the plumber I used Brightlocal to run some reports to show them some issues. I then found out they only had a $100/month budget for this project so I immediately took the conversation offline and offered to do a consulting deal outside of the agency. My thinking was I'd get them to a point where they felt more confident to spend more money and I could eventually bring them in as a client. I knew the owner would want nothing to do with a company with such a small budget but I didn't see it that way so I took matters into my own hands. Come to find out he knew I was working with them (Likely through my UpWork profile) and had used company tools to help them.
At this point he had already made up his mind and felt I was not invested in growing his business. In all fairness I really didn't care about growing his business, I had always felt like the work I put into keeping clients around and upselling existing clients on services was hardly being very rewarding. Especially since I had brought in the huge $2500/month client and I was doing all of the work.
My Unemployment Entrepreneur Game Plan
So at this point I'm now free and living with a wealth of knowledge compared to where I was last time this happened a year ago.
I'm making a lot more money from my course sales and I know a lot more about what can work for me and what won't work.
I decided to put together an unemployment game plan, last week I later re-named it the 'Entrepreneur Game Plan' because that is really what it is.
I'm not unemployed I'm now a self employed Entrepreneur!
Earlier in May of 2016 I had started my 6 months of consistency action plan. I wanted to share the results of that basically 3 months since I ended it in August after I was let go from the agency:
1 new blog post a week on NoShameIncome.com – I did 6 blog posts (fail)
1 new YouTube video a week – I tracked doing 6 videos but basically did so many I stopped tracking them. My channel has over 50 so I'll call this a win.
Create 2 new courses per month – I did 17 courses combined in under 3 months (Definitely a win here)
Do a workout program the whole time (Like 22 Minute Hard Corps) – I did my workout probably about 20 times (fail)
Submit proposals to 35 jobs on UpWork a month – I applied to 21 jobs on UpWork (fail)
As you can see I was spreading myself too thin and trying to do a lot of different things all while still working at the agency.
I knew I had to make a new plan now that money is a bigger priority right now. 
The plan was simple, instead of cold calling businesses I'd simply step up what I'd learned from my coaching with Lior.
Submit 10 UpWork proposals per day
Submit 2 job applications (as a backup plan)
Attempt to create 1 short class each day for Skillshare with a goal of at least having done 20 new courses by the end of September.
Much to my surprise here are my stats on this plan for the past 3 weeks as today's date 9/16/16:
69 UpWork Proposals Submitted (Goal not met, but amazing things happened!)
10 New Courses Created For Skillshare
Submitted my resume 13 times (I really am not trying here that hard)
My Results:
New client for $600/month
Upgraded an existing client I had been working with on the side from $300/month to $800/month
Won a one time $500 job
Won a one time $100 job (Which is also leading into more work)
Upgraded the client who was paying me $100 for consulting to $400/month (Didn't I predict this would happen?!)
Won another one time $500 job
Won 3 new local SEO jobs for $500/month
Won another local SEO client for $300/month
Won a national client for $1300/month
I did all of this in under a month just using UpWork. I also found out one of my most recent Skillshare classes is 'trending' on the entire first page of all of the Skillshare courses. It got over 500 students and 25 reviews in under 2 weeks.
Between Udemy, Amazing.com, StackCommerce and Skillshare I've roughly been averaging $1500-2000 of stable course income.
I now have another $5000 in monthly recurring SEO work most of which I managed to bring in over a span of just 3 weeks.
This has all made me realize I really don't need to go back to working a 9-5 job.
Other Amazing Opportunities On The Horizon
In between all the work I was doing to get new clients coming on board I also decided to build a free mini course on how I've been having so much success with UpWork.
I setup an entire free course which you can check out at 1k SEO Consulting. It basically shares everything I've done to go out there and get the results I mentioned above.
A New Partnership? 
Remember Paul James? I purchased Maps Mentor and his Local Leadz products.
Well during all of this he's been one of the few people I've followed online ever since he released his free lead generation tool on the Warrior Forum back in 2015.
During my time testing out different course platforms I also moved all of my SEO courses into a site using Teachable over at NicheSEOAgency.com
Well I decided to show Paul some of my material and my UpWork course and he immediately took an interest to what I had put together.
We've now created a game plan (Just like I did with my past projects with Jon at Lightning Rank) and we plan to launch a unique course all about UpWork for SEO into WarriorPlus marketplace. This course will be much more comprehensive then the free course I mentioned.
Paul is known for doing big launches on the Warrior Plus platform and has achieved 'Deal Of The Day' with some of his past launches.
I am looking forward to what this new self employed freedom will bring me in the future.
Becoming An Essentialist
As of this past week I was recommended a book called Essentialism – The Disciplined Pursuit of Less.
I sat down on Monday and simply decided to spend more time reading an actual book than I had in a very long time (likely the last time I read an actual book was in 2010).
The concept of the book is all about having the willpower to say 'no' to new opportunities that come at you left and right while you try to maintain focus on that 1 thing you are going after.
I've been stuck in the left column of the non-essentialist for years on end:
This entire story screams how much I've been jumping from one thing to another, trying everything out there, saying 'yes' to any opportunity that comes my way and simply trying to do it all.
I decided to sit down and try creating a mindmap for the first time by breaking down different opportunities with pros and cons based on the direction I should go moving forward for the long term.
*Click The Image To Open It
Before I break down all of these ideas I wanted to share some lessons I've learned.
The Real Lessons Learned
Being a brutally honest person is one reason why I started this blog, No Shame Income.
I've always been a very blunt person and have never been ashamed to tell the truth, even if it screws me over or hurts someone's feelings. I tell it how it is and I've never been afraid to express that.
Let's cover some of the what I've learned over the past 6 years:
You can have success with just about anything you put time effort and focus into if you spend enough time on it. There were plenty of things I failed at and plenty of things I had success with. Despite jumping pretty much all over the place I've still found a lot of areas I've had success in, most people would have given up long ago.
I watched many people succeed and fail, I've seen people abandon websites and disappear while others have gone on to make well over $10,000+ a month online. Despite watching other people have success, I've had plenty of people look up to me and tell me they wish I had what I had. I try not to compare myself to others, I just keep on pushing and learning.
The biggest thing I've honestly taken away from this industry is that most people online are out to 'sell' you something, that's how most everyone makes money in this industry. It wasn't until I started taking platforms like Udemy more seriously that I learned that and took advantage of teaching everything I learned along the way.
Had I continued to just 'learn' and never apply it or teach something I'd be at a total loss.
Moving Forward & Thank You
Alright so if you've made it this far into this post, thank you.
You just read 24,287 words of content!
I broke down the image above into some areas I could focus on, you now know pretty much everything there is to know about my journey and I'd be eager to hear your feedback on my direction.
Here are some directions I'm considering taking a lot more seriously from here moving forward to become a true Essentialist:
Building Android applications for passive income
Bringing on more SEO clients
Creating more online courses *This is what I'm focusing on*
Starting to interview products every week while building the blog and my YouTube channel simultaneously
Getting more serious about Amazon Affiliate sites
Creating my own virtual summit (Like Navid did)
Finding a solid partner to help me grow my business online by doing product launches and webinars – So far everything with Paul James is off to an amazing start.
Thanks again for reading this epic post and I'd enjoy hearing your crazy comments to my absolutely insane internet marketing journey.
*Update 1/16/17* I have decided from the list above to focus all of my time and effort on building online courses. This is my absolute favorite way to earn a living online of everything I have done.
-John Shea